BRAKE REPAIR
Our team is equipped to repair all brake systems. If you've noticed squeaking or grinding in your brakes, bring in your car today!
OIL CHANGE
Oil changes are imperative to engine health and longevity. Our team will not only change your oil, but we will check for any potential problems in your vehicle.
We ARE 
RANCHO AUTO SERVICE
---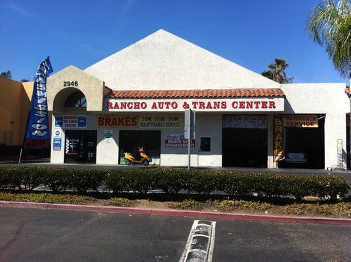 WE ARE A FULL SERVICE AUTO REPAIR STORE!
Here at Rancho Auto Service we provide complete auto repair for our customers. We are a one stop shop and we stand tall behind our work. Our technicians are ASE certified and our business is BBB accredited. We provide professional services at affordable and discounted prices. We accept all major credit cards and will give you an accurate estimate prior to any work being performed.
Rancho Auto Service offers a 100% satisfaction guarantee! We are the one stop automotive shop for all you car care needs.
Come by today or call for our special prices.
Rancho Auto Service has been providing quality car care in El Cajon for years. Our shop's dedicated technicians use the latest technology.

Our auto repair shops is conveniently located in El Cajon. Our certified mechanics are equipped to handle all repairs.
Read the most up-to-date advice on how to keep your vehicle in tip-top shape. If you have further questions, contact us!

The team at Rancho Auto Service appreciates our customers. Check back frequently for the latest promotions and special offers.
Services
We Offer
---
The certified mechanics at Rancho Auto Service employ today's latest automotive technology and are equipped to handle all major and minor auto repair services on foreign and domestic vehicles. Below are some of the many auto repair services that we offer:
Our team can keep your vehicle in top shape by performing regular preventative maintenance for you.

If your vehicle needs air conditioning repair, bring it to Rancho Auto Service, where we will fix it quickly.

Brakes are pretty much the most important safety device on your car.
From the engine to the exhaust pipe, our expert team can work with all parts of the exhaust system.

In most cars, the axles are an essential part of the steering system.

An important part of routine car maintenance is changing the oil regularly.
Our team has years of experience working in car repair. Additionally, our technicians have worked on many different vehicle makes and models throughout their years of service in the repair industry.
The team at Rancho Auto Service is not only knowledgeable–they are friendly as well. If you have a question about a service we perform on your vehicle or want advice on how to better take care of it, we will help you.
Rancho Auto Service has the best team in town. The team is also aided in their repair work by the latest technology in the automotive repair business. You can be assured we only use the best equipment in our work.
Business Hours:
Monday 8:00 am – 5:00 pm
Tuesday 8:00 am – 5:00 pm
Wednesday 8:00 am – 5:00 pm
Thursday 8:00 am – 5:00 pm
Friday 8:00 am – 5:00 pm
Saturday 8:00 am – 5:00 pm
Sunday Closed